"And now these three remain: faith, hope and love. But the greatest of these is love." 1 Corinthians 13:13

We have extensively researched the durability and versatility of our products and feel that we have chosen the best products available. The material we use for our tags is Polypro Webbing (with the exception of the Multicam®) which is used for many purposes. It is waterproof and UV and mildew resistant. They wash easily and are extremely durable and strong. We want to make sure that your products are sustainable and last you for many years. Any Tag Every Bag product you choose will be a durable, fun addition to your life!
1.5" X-Secure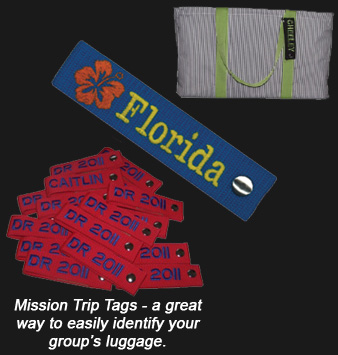 The 1.5 X-Secure tag was designed with an extra measure of security. It has a metal snap closure and a 2" piece of heavy duty hook and loop (Velcro style) tape to make sure it stays where you put it. The hook and loop also makes it adjustable, you can snap it on a small strap and take advantage of the extra security or temporarily snap it on something larger and not use the hook and loop. It is about 1.5 inches shorter than the Ident-a-tag (with identical embroidery). The X-Secure tag is an excellent way to identify your bags in airports, at business conferences or with sports teams. It is also ideal for police, fire or rescue incident command sites and many other applications to keep you moving quickly and efficiently. As with any of our tags, a second side of embroidery makes the Xsecure very versatile and visible from all directions.
1" X-Secure
The 1" X-Secure was the inspiration for our company name "Tag Every Bag". This smaller version of the 1.5" X-secure was developed with a backpack in mind. The idea was to have names on both sides and attach it to a backpack handle. We use a colorful plastic snap instead of a metal snap in most situations. Regardless of which direction the handle rests on the backpack, identification is immediate with embroidery on both sides. We quickly found it was perfect for many applications. Use it for musical instruments, lunch bags, purses, computer cases, sports bags, beach bags, or any other type of bag that you might want to identify or embellish. Put it on your stroller for easy identification at theme parks. Attach a split ring and it becomes a zipper pull or key ring, it is our most versatile tag! Like all our tags it is completely portable, move your tag from your work bag to your yoga mat, gym bag, beach bag or stroller on the weekend.
1.5" Ident-a-tag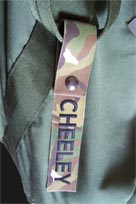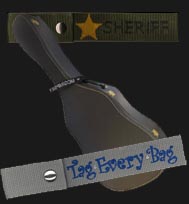 This is a classic military style luggage tag. This tag moves easily from bag to bag with a metal snap closure. It is large enough so you can easily spot your items in the airport, at sporting events or in large groups. You can take it off one bag and use it on another bag with ease. Like the X-Secure, it is highly visible in many different situations. When both sides are embroidered you can easily identify your bag no matter how the tag is situated on the bag.
1" Ident-a-tag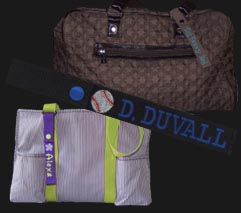 The Ident-a-tag is our original tag. It is modeled after tags used by military personnel for travel. The 1" is a smaller version of the original Ident-a-tag. It is intended for carryon luggage, briefcases, cosmetic bags, lunch bags and diaper bags. We use a colorful plastic snap to match the> thread color on most 1' Ident-a-tags. It's perfect to switch from a lunch bag to a backpack or from your large everyday diaper bag to a smaller bag you might carry to church. It easily attaches to a key ring or a

quick link adapting to many situations.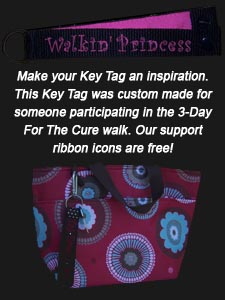 Key Tag
We were asked to develop a key ring that could be carried on a wrist while walking. We wanted to keep with the idea that our products could be versatile, attach to multiple things and be a custom embellishment to any bag. The key tag is an incredibly versatile tag. It serves as a key ring for your keys, it can clip or snap on to your purse, stroller, bag, water bottle, bike, belt loop, just about anything! You can customize it with your name, bible verse, company name, favorite quote, nickname, whatever inspires you, and since it is longer than our other products you have the option of putting more characters on it.
During our search for hardware to compliment our tags we came across a Steel Snap Clip used for rifle slings. We decided to offer this rifle clip as an option for the key tags so that they could easily snap onto your items.